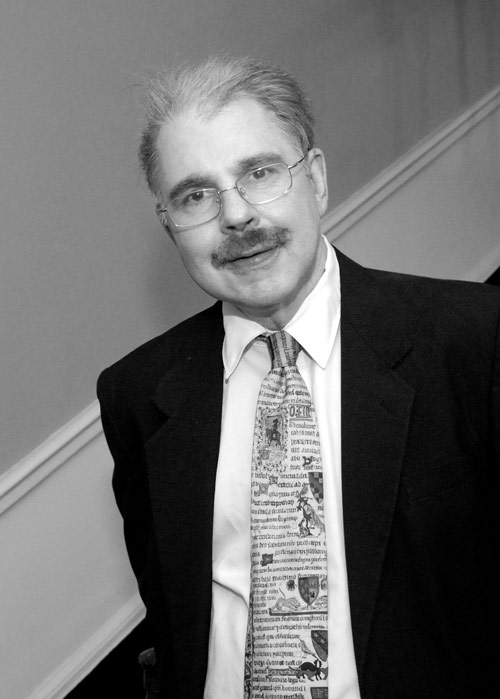 Photo by Nina Tisara
Nobody knows or has written more about
the City of Alexandria than former City
Research Historian T. Michael Miller.
ALEXANDRIA, VA. - Nobody knows or has written more about the City of Alexandria than former City Research Historian T. Michael Miller. Miller has devoted 32 years to writing, living and breathing Alexandria's history and has served on the board of the Alexandria Historical Society for 12 years in various capacities, including president.

"Alexandria is so significant in being an American city," Miller said. "It had the longest occupation of any city in the United States during the Civil War. The city was enormously important to George Mason, who was a city trustee for more than 20 years and who is considered the father of the Bill of Rights."
"He is the most published author about Alexandria's past in history," said Alexandria Archaeologist Pam Cressey. "History is the underpinning of everything we do in Alexandria, and he (Miller) has an institutional knowledge of Alexandria that really is significant."


Historian William Seale, formerly of Alexandria, who nominated Miller, said: "In writing the statement it occurred to me (as a historian) that Mike's work will be read a century and more from now and used by scholars and those interested in the city's past. It is obvious, but he is at the core of the period of most prolific historical research and production ever known in Alexandria. Imagine that. Seems late in such a place that has been famous since it was only 25 years old, but it's true. I think his interest in everyday life makes his studies of the city unique and very modern in approach. Before very recently most history has been written about the great and powerful. He has included those, but has used public records to bring back the world of Everyman, with diversity and even handedness."


Miller, now 61, joined the city as a volunteer in 1977 and worked with Cressey to excavate the site of the current courthouse in the 500 block of King Street. A native of Southern Maryland, Miller received a Bachelor's degree in history from Alderson-Broaddus College and a Master's degree in international relations from American University. His career included work at Walter Reed Army Medical Center, the Library of Congress, the U.S. Department of Health, Education and Welfare and the World Bank.

"My father first brought me to Alexandria when I was 12 years old, and he took me to the birthplace of Robert E. Lee," Miller said. "Alexandria was supremely beautiful and captivating, with its brick-lined streets and beautiful architecture and homes that lent themselves to being admired. And, it was the hometown of Robert E. Lee and George Washington."

From 1978 to 1980 Miller was the curator of the Lee-Fendall House. Miller has published 10 books on Alexandria, sometimes revealing its dark side.

In 1981, he wrote "Where Is It?" an authoritative guide to historical source material on Alexandria. Over the next six years he wrote three more books that focus on various parts of city life from its founding to present day. In 1988 he released "Murder and Mayhem – Criminal Conduct in Alexandria, 1749-1900, which documented more than 100 serious criminal cases featured in the Alexandria Gazette Packet.

Miller's crowning achievement may have been in 1987 when he rediscovered Freedmen's Cemetery, where the forgotten remains of 1,800 freed black slaves and their children were buried.

Located in the 1000 block of South Washington Street, Miller discovered its location by reading 19th century Washington Post articles and burial records. The Freedmen's Cemetery Memorial Park is expected to open this year.

Lillie Finklea, co-Director of Friends of Freedmen's Cemetery said that Miller's efforts helped spark her work to limit the footprint of the Woodrow Wilson Bridge project.

"I read one of Michael's articles in the Washington Post in 1997 that talked about the existence of an all-black cemetery and that maybe it could stop the bridge from being constructed. Without a doubt, without his help, I would not be here today, or would many of the people who you see here (at Lloyd House) have had their lives changed by him."

Now in its third year, Living Legends of Alexandria is an ongoing 501(c)(3) photojournalistic project to identify, honor and chronicle Alexandria's Living Legends. The project was conceived by artist-photographer Nina Tisara to create an enduring artistic record of the people whose vision and dedication make a tangible difference to the quality of life in Alexandria. The project is funded in part by a generous donation from the Rotary Club of Alexandria.

This is one of a series of 12 profiles that will appear this year. For more information or to nominate a Legend for next year's program, visit http://www.alexandrialegends.com/ .